The Stuttgart Chamber Orchestra is not made up exclusively of orphan boys - quite the contrary! On this CD, the "Schwabenstreicher" (Swabian string players), as they like to refer to themselves, take on the roles of the orphan girls taught by Antonio Vivaldi and for whom he wrote countless concertos. In the supplementary text, Thomas Seedorf reports that the schoolgirls were all so eager to learn that they could take on whatever solo parts they liked. And because the present-day orphan girls - led by Ariadne Daskalakis - were so full of energy, they took care of seven pieces at once - in one go, as the title gives away. We wish you much enjoyment listening to all of these various impulses, personal timbres and effervescent interpretative ideas!
Reviews
Pizzicato
(09/01/2013):
Vivaldi lyrisch und natürlich
Das Stuttgarter Kammerorchester spielt unter dem Titel 'Vivaldi: 7 with one Stroke' sechs Konzerte aus Vivaldis 'L'Estro armonico' sowie ein Arrangement der 'Tito Manlio-Arie' 'Il figlio il re' für Kontrabass und Orchester.
more...
Klassik heute
(07/02/2013): An Aufnahmen von Vivaldis Konzerten für Streicher mangelt es wahrhaftig nicht – wenn ein Ensemble aus diesem unerschöpflichen Fundus eine CD-Auswahl präsentiert, kann dies nur aus zweierlei Gründen geschehen.
more...
Musik & Theater
(06/01/2013): Was vier Geigen können, gelingt auch vier Bratschen. Jedenfalls in Stuttgart, wo die Musiker des Kammerorchesters sechs Vivaldi-Concert für zwei oder mehr Streichinstrumente in ganz verschiedenen Kombinationen eingespielt haben und dabei in allen Solo- und Tutti-Lagen eine sehr gute Figur machen.
more...
MDR Figaro
(05/21/2013):
--> zum Original-Artikel
CD der Woche
(…) Dieser Vivaldi gelingt mit einer heiteren Leichtigkeit, die schlicht der Kraft dieser Musik vertraut und sich jeglicher Übertriebenheiten enthält - Gott sei Dank.
more...
Reviews
Sächsische Zeitung Dresden (03/04/2014):
Mittendrin statt nur dabei
Wie lässt sich Hörern Musik noch näher bringen? TACET ist die deutsche Tonträgerfirma, die am nachhaltigsten mit allen Arten von Ton-Scheiben experimentiert. Außer den Stereo-Medien CD und LP bietet das audiophile Label SACD, DVD-Audio und Blu-ray Audio mit Mehrkanal-Surround-Aufnahmen an.
more...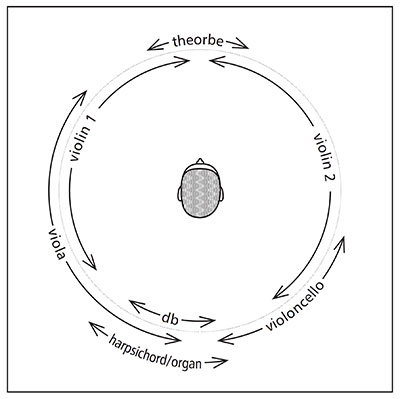 Ariadne Daskalakis - 7 With One Stroke!: Concertos by Antonio Vivaldi Concerto for 3 violins, strings & continuo in F major, RV 551 - 01. (Allegro) (4:26) 02. Andante (2:13) 03. (Allegro) (3:08) Double Concerto, for violin & cello, strings & continuo in B flat major, RV 547 - 04. Allegro (moderato) (4:06) 05. Andante (1:52) 06. Allegro molto (2:55) Concerto for 4 violins, strings & continuo in E minor ("L'estro armonico" No. 4), Op. 3/4, RV 550 - 07. Andante (2:25) 08. Allegro assai (2:15) 09. Adagio (0:36) 10. Allegro (2:06) Double Cello Concerto, for 2 cellos, strings & continuo in G minor, RV 531 - 11. Allegro (3:12) 12. Largo (4:16) 13. Allegro (3:06) Double Violin Concerto, for 2 violins, strings & continuo in A minor ("L'estro armonico" No. 8), Op. 3/8, RV 522 - 14. Allegro (3:29) 15. Larghetto e spiritoso (3:09) 16. Allegro (3:11) Concerto for 4 violins, cello, strings & continuo in B minor ("L'estro armonico" No. 10) Op. 3/10, RV 580 - 17. Allegro (3:55) 18. Larghetto (2:09) 19. Allegro (3:27) 20. Tito Manlio (II), opera in 3 acts (Act 3 only), RV 778 - Aria. Il figlio, il reo (4:14)